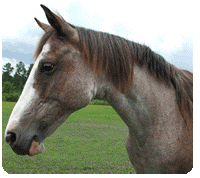 Amanda (Quarter Horse) – One of our only "local" equine rescues, this sassy mare was rescued from neglect just miles from our farm. Amanda is now fully rehabilitated and is awaiting that special human that can provide a loving home. She has wonderful ground manners and would be a perfect trail horse. If interested in adopting her, please send us an email to info@cjacres.org to begin the application process.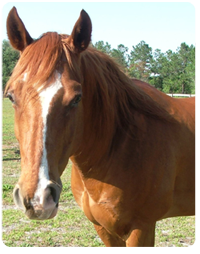 George (Quarter Horse) – Abandoned at the age of two, this handsome (and super smart) gelding was rescued in North Carolina. Over the years, this "man of the barn" has demonstrated his confidence, curiosity (he was named after the monkey, Curious George), and intelligence and has easily accepted his Number Two position in the herd. Just don't be surprised if he switches on the lights, turns on the water or opens closed doors!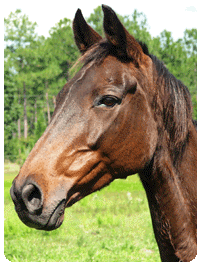 Nikki (French Thoroughbred) – The grand dame of CJ Acres arrived in October 2007 in desperate need of improved nutrition and gentle care. A former racehorse, this 34-year old mare was seized by local veterinarian, Dr. Tom Naumann, and entrusted our farm to provide a loving home. During her time here, Nikki has not only added 450 pounds, but gained confidence, trust, and a much better quality of life. She will live out the remaining years of her life here on-property, receiving and abundance of grain, hay, treats, and love.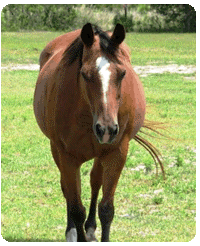 Shirley (Arabian/Quarter Horse) – Imagine a child being left behind at a daycare because the parent didn't want to pay the bill. This is what happened to our lead mare when her owner, to get out of paying a boarding bill, simply abandoned her. Fortunately (for both us and her), we paid her vet bills and had her transported cross-country from Arizona. While here, she has become more trusting, extremely gentle, and very social. As leader of the pack, she can still lay down the law when required but prefers to be groomed and massaged by eager volunteers.
"A horse loves freedom, and the weariest old work horse will roll on the ground or break into a lumbering gallop when he is turned loose into the open."
~ Gerald Raferty