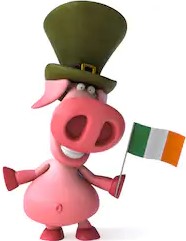 Saturday, March 14 
 4:30pm–6:30pm
Grab your shillelagh, don your green and stampede down to the end of the rainbow for a sPIGtacular time of aMOOzing Irish fare, TURKiffic drink, and MAREvelous animal encounters. Join us for a wee bit of fun that includes: 

 A Three Course, Compassionately-Created, Gourmet Irish Meal. Check out the menu here.

Your Choice Of Beer, Red & White Wine Or Specialty Non-Alcoholic Drinks 

 A Hooves/Wings/Paws-On Interactive Tour Of The Animal Sanctuary 

Opportunities To Pork Up Park Passes, Gift Cards & More At Our Silent Auction

Open To All Ages!
Tickets are limited and will only be available in advance. NO tickets will be sold at the door so secure your spot right now!

Gents & Ladies (13 – 99 years old)  $27.95
Lads & Lasses (3 – 12 years old)  $19.95*
Leprechauns (0 – 2 years old)  $0.01*
  * NOTE: Must be accompanied by a paying adult