Celebrate the season by sponsoring one (or all) of our rescued turkeys! Your sponsorship includes a beautiful certificate that includes a full-color photo of your new friend, complete with details on how they came to our sanctuary and their unique personality traits. In addition, you'll receive updates throughout 2018 and have the opportunity to meet in-person.
Your tax-deductible gift of $29 per turkey sponsorship (or $95 to sponsor our whole flock) provides for their annual care and allows our sanctuary to continue our rescue efforts to assist farmed animals suffering from abuse, abandonment, neglect or catastrophic disaster. 
Jorge – Male, Spanish Black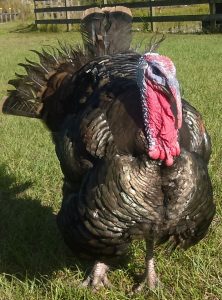 Jorge is a stunning male with a big personality. He was rescued in a residential community in 2015 when he was approximately three years old. Visitors to our sanctuary are impressed with his outgoing nature and flirtatious spirit. He loves fresh-baked bread, cracked corn and especially enjoys human interaction.
Weena – Female, Royal Palm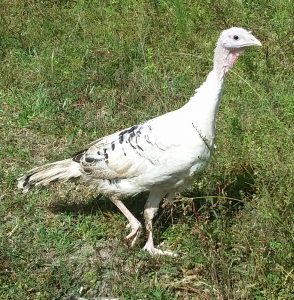 Weena is our only female turkey at the sanctuary but is unphased by her suitors, instead interested in exploring every corner of the farm. It's not uncommon to find her on a roof where she can survey the area she's about to investigate. She was rescued (along with three brothers) from a Jacksonville, Florida farm in October 2017 when she was only three-months old.
Silverstein – Male, Royal Palm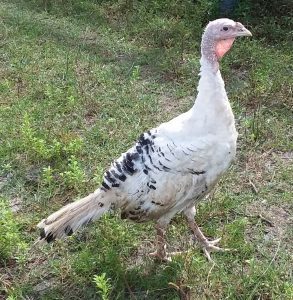 One of three boys rescued in October 2017, this talkative turkey lets everyone know exactly where he is. He's constantly gobbling, chirping, chuffing or cooing. He enjoys hanging with his two brothers and one sister (Weena) and is fascinated by the variety of animals at the sanctuary, often times approaching our horses, cows, goats and sheep for up-close introductions.
Foster – Male, Royal Palm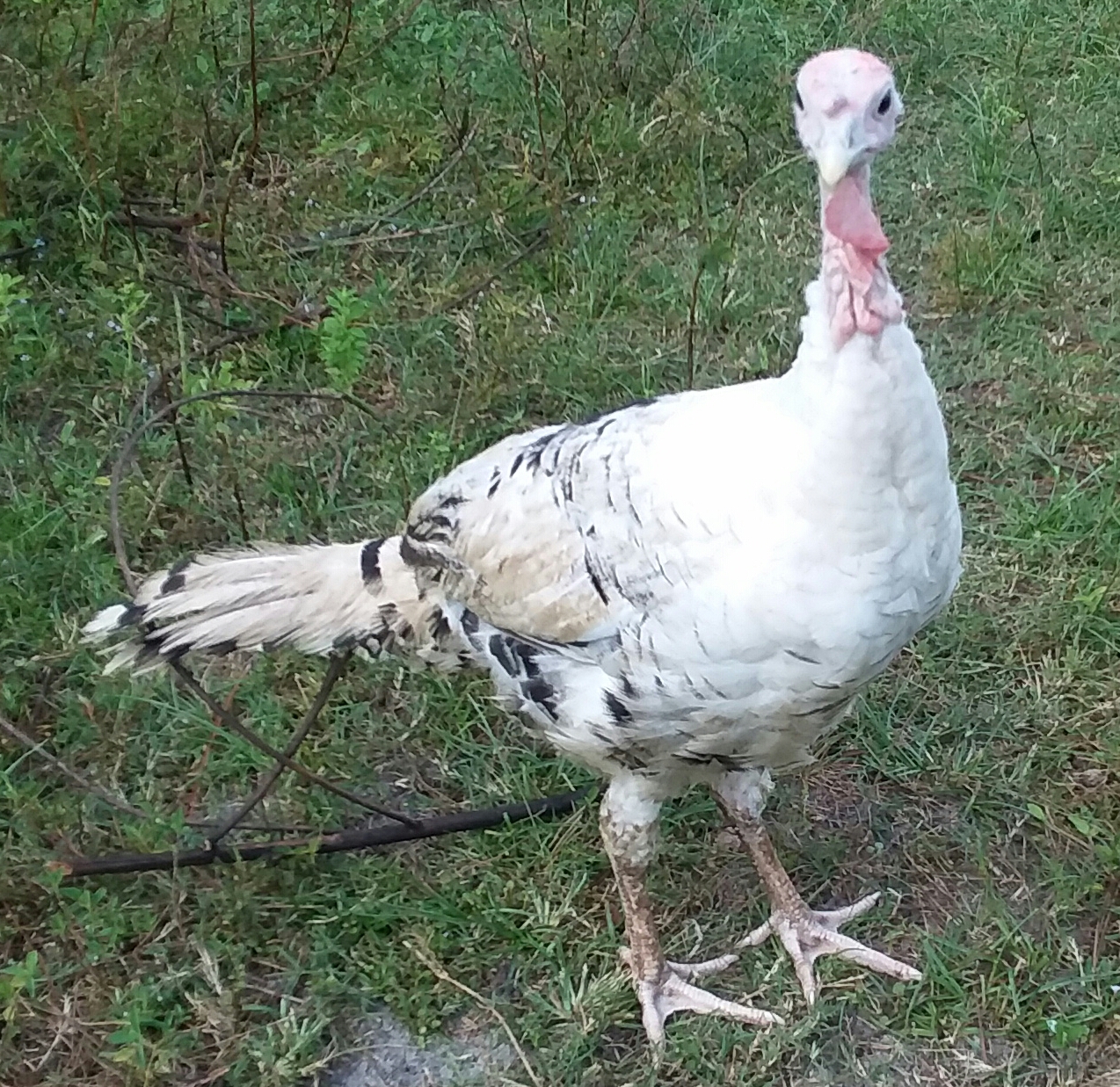 This boy is our 'culinary expert' who's always the first to try new delicacies like pomegranate, watermelon, dragon fruit, or bagels. Once he's given the thumbs up (or wings up) on a new food, the other turkeys will join in. He's often seen strolling the grounds, with his flock, in search of something tasty.
Freedom – Male, Royal Palm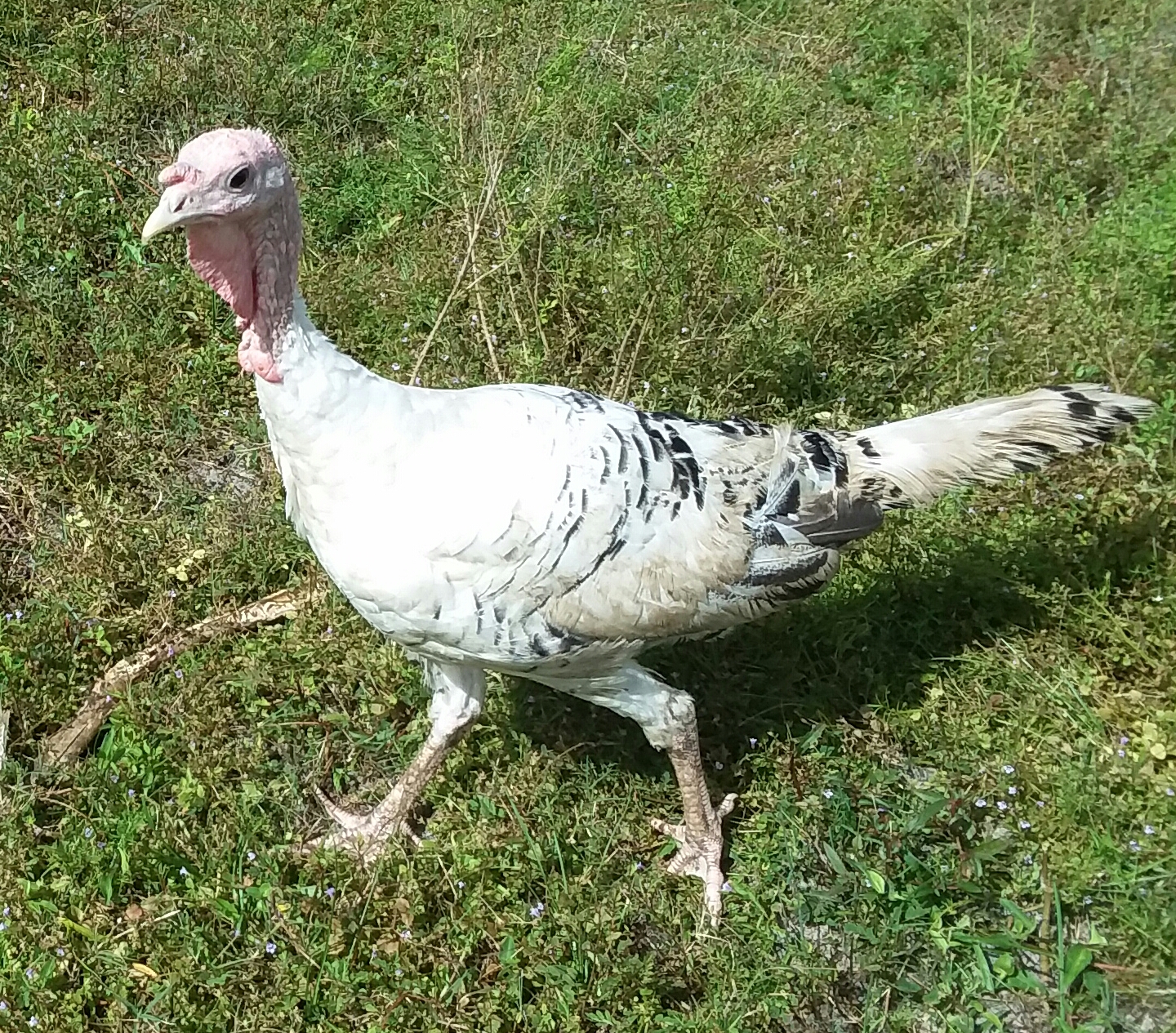 The shyest in our flock, this sensitive boy can often be found at the back of the pack. In his life prior to the sanctuary, he was caged and not exposed to the freedom, treats and love he's now receiving. As a result, he's hesitant (but happy) with all of the new experiences that greet him each day.
Can't Decide

They are all so darn cute and you can't decide which one to sponsor. Well, sponsor the whole flock.
---